How Otocast Works
Otocast isn't just for one location, or even one theme. Otocast contains many guides, on many topics – all sorted by proximity to your location wherever and whenever you start the Otocast tour. If you are planning a trip, or just checking out your surroundings, you can easily find places to visit that catch your interest.
An Otocast experience is like having a personal guide from the artist or an expert take you on an engaging tour of a destination of interest. Right from your phone!
For All Platforms...For All Visitors
Mobile app available on Apple and Android

Mobile/Website version (for app-fatigued users)

Dial-up: Dial a phone number to hear the recording

(for those who want to access audio the old-fashioned way).

Tools to let you embed the guide on your website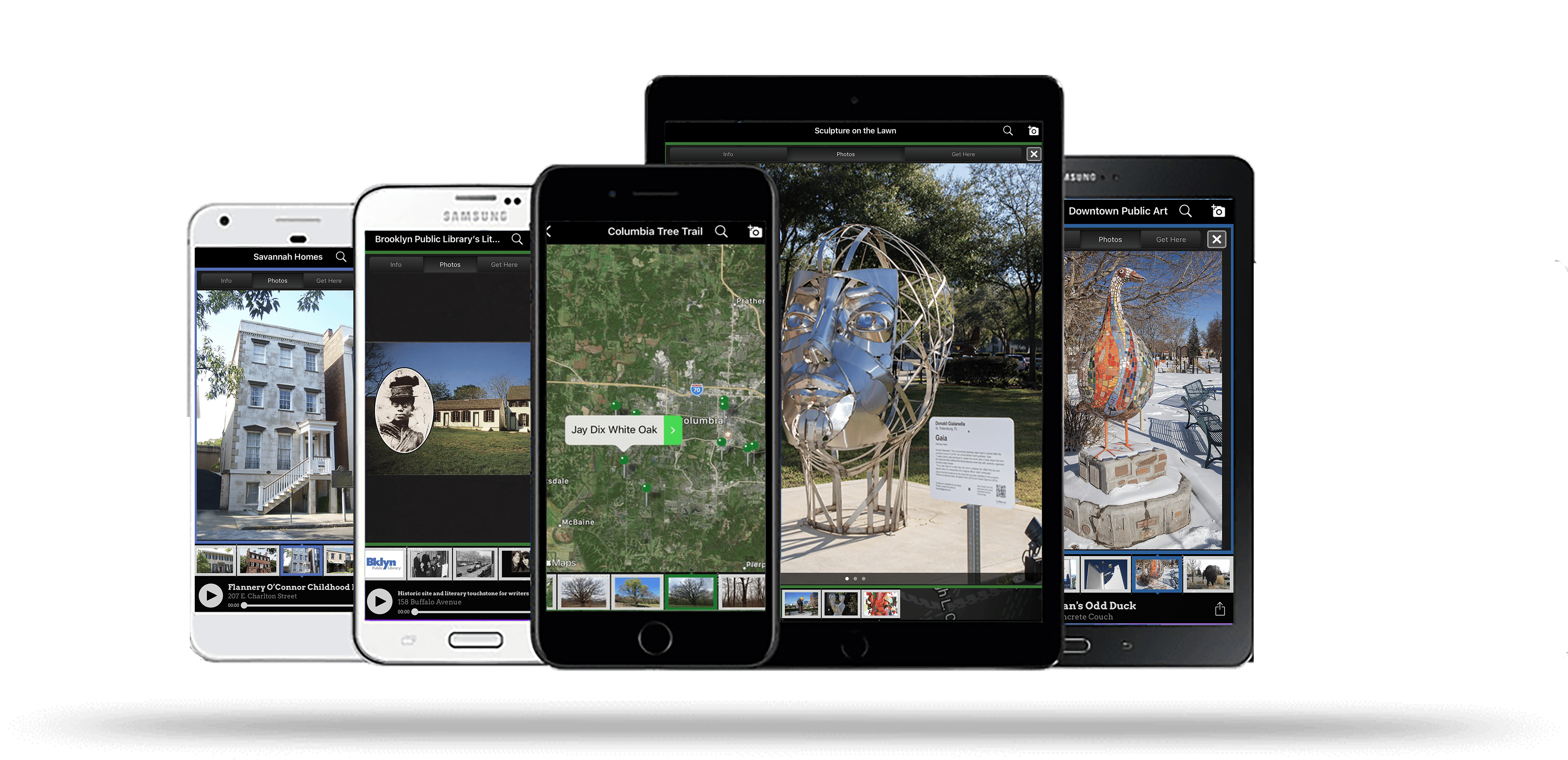 Expand the Possibilities
Want to provide discreet audio guide functions when GPS isn't available or feasible? Are the points of interests at your location densely packed, indoors or outdoors?
Our Solution: Bluetooth Beacons
Beacons, low-cost transmitters, can be placed at a point-of-interest, enabling visitors to gain access to the associated content only when they are within the hotspot radius. With beacons, publishers can protect content -- it is hidden from visitors until someone is nearby and activates the beacon.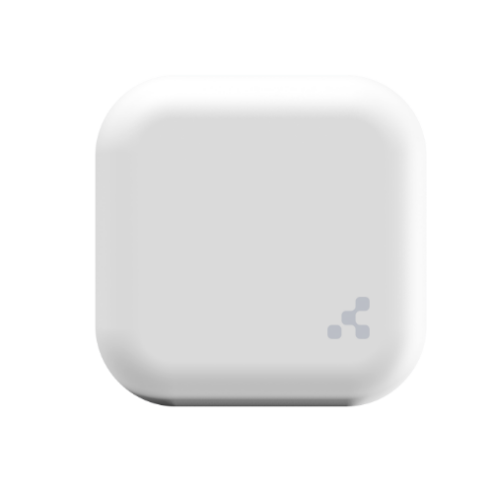 Designed for Discovery
Displays guides closest to where you are
Accessed on demand through maps or images
Multiple points-of-interests offer a variety of locations to engage visitors
Explore at your own pace, on your own time
Read about locations before you get there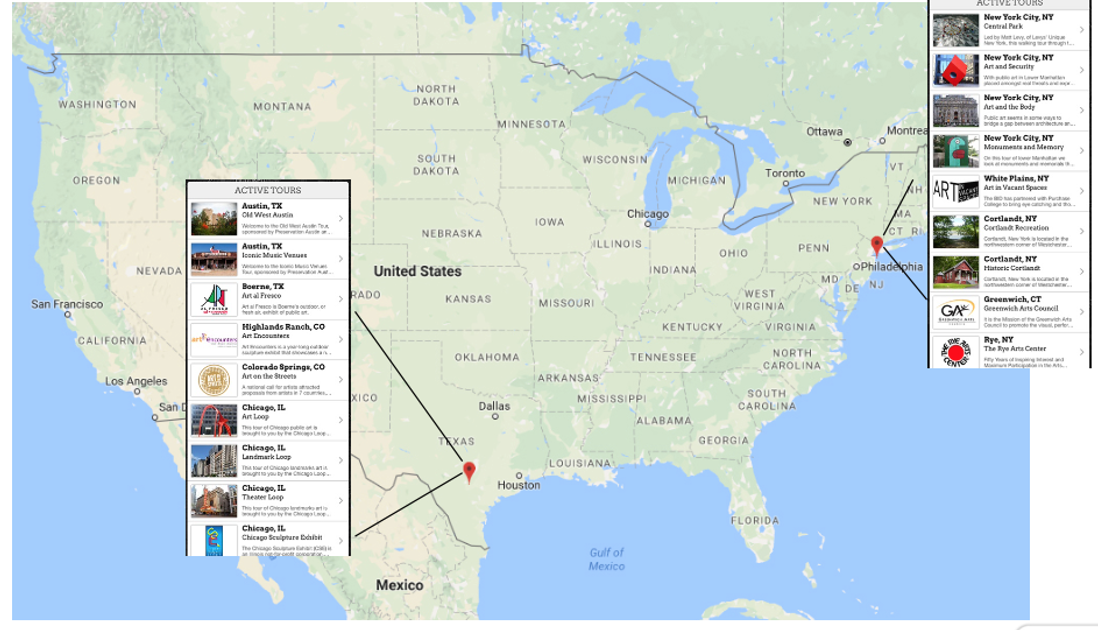 Robust Content
Every Location Offers:
Custom audio narratives deliver engaging information

Text descriptions (with active links)

Photo gallery

Embedded video

Real-time directions

Social media sharing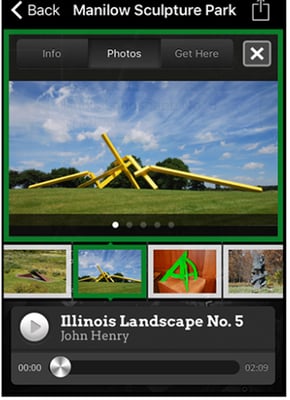 Layered Content by Theme
A single guide may consist of locations categorized by different themes, enabling easy navigation for users. This example shows locations organized under the themes of Art, Historic Site and Park.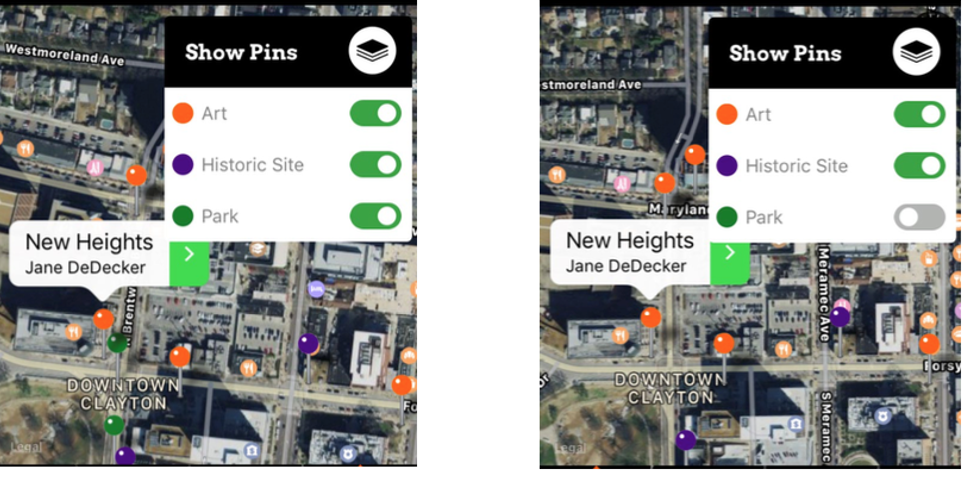 Gamification Boosts Engagement
Digital badges, rewards, achievement levels and chances to win prizes or enter a prize drawing heighten user engagement. Local businesses can benefit by attracting visitors and awarding prizes at their address. Plus, our partners gain the opportunity to build ongoing relationships with visitors.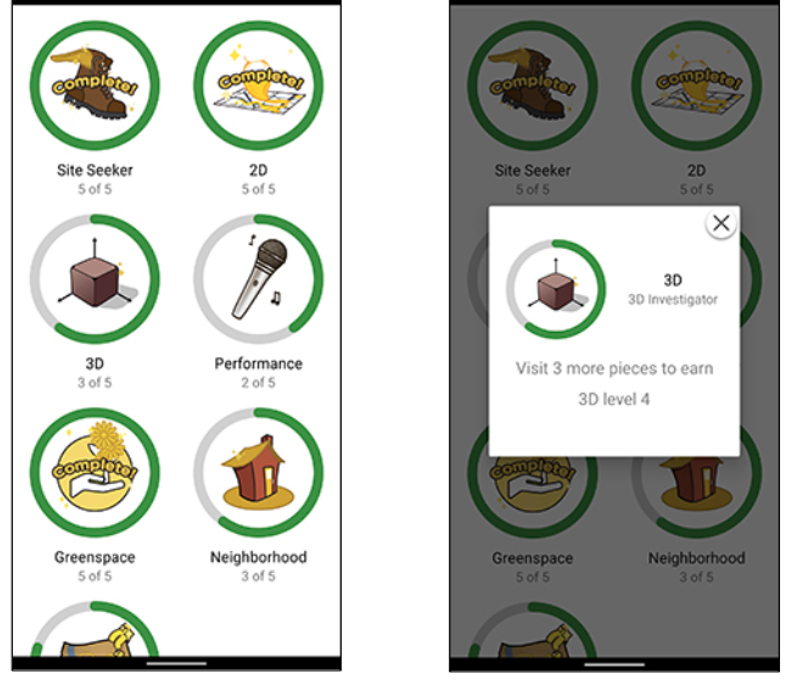 Involve Local Partners and Sponsors
Integrating local partners into your guide drives revenue and heightens user engagement.
Mark sponsor locations on the map as themed point of interest with supporting content (audio, photos, video)

Showcase partners and sponsors on a 'splash' page, which reaches users when they launch the guide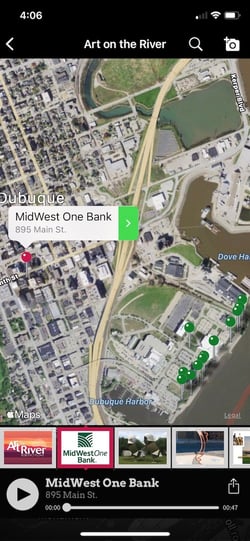 Analytics Keep You Informed
Learn about how and where visitors interact, and for how long. Metrics include:
Number of visitors who activated a guide

Points-of-interest accessed

Time spent (duration)

Most popular tours

New versus repeat visitors

Social media sharing